Balos Lagoon is located approximately 56 km northwest of Chania and 17km northwest of Kissamos. As one of the most photographed locations in Crete, Balos is an attraction for all tourists during summer. Thousands of people visit it, due to the exotic scenery that the turquoise waters and the wild Cretan beauty create.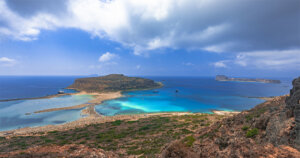 Photo by: Wilson von Zeidler 
Balos Lagoon – a piece of heaven on earth
The beach has white and pink sand, while the sparkling blue waters will leave an everlasting impression on you.
The sea is very shallow and warm, making it ideal for children. Furthermore, you will find there numerous crushed seashells that make the sand look pink. The wider area is full of rare species of flora and fauna which are protected under the Natura 2000 program. There are hundreds of plants and flowers, many of which are endemic to the area and plenty of intriguing birds. Moreover, it is a natural shelter for the protected monk seal and the sea turtle, Caretta Caretta.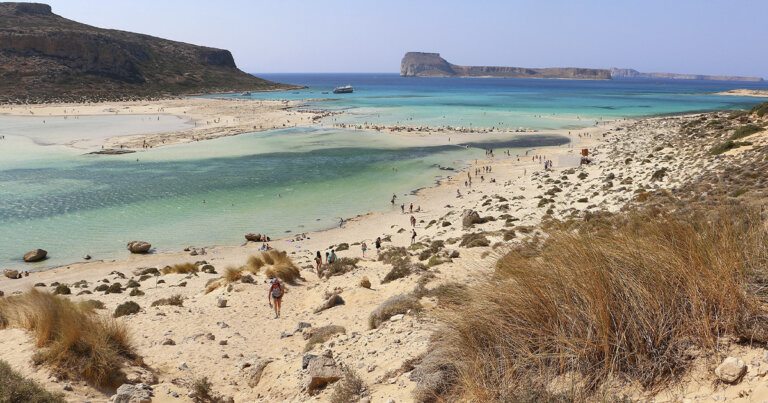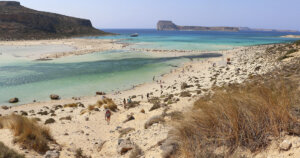 Photo by: Alberto Levorato
Explore Imeri and Agria Gramvousa islets near Balos Beach
North of Balos Lagoon, there are two small islets: Imeri Gramvousa and Agria Gramvousa. Both are uninhabited, but they can be easily accessed by boat. You will also find at the highest of Of Imeri Gramvousa, an impossing 16th century Venetian Castle. There are two main ways to get to Balos Lagoon – by boat and by car. The majority of visitors prefer to go on a boat tour that starts from Kissamos port. In this way, you will also have the privilege of exploring the surrounding area and the smaller islets, and admire the magnificent landscape.
If you wish, our company can take care of your safe transfer to the port in order to reach the lagoon. Specifically, our driver will pick you up at an agreed time, from the location you wish and drive you to Kissamos Port. Make sure to wear comfortable shoes, as the area is quite rocky and steep to walk on sandals or flip flops.
Lastly, our driver will once again meet you at the port and drive you back to your hotel at the agreed time.